Class Act - Tony Binarelli book by Ouellet
"
In Italy, the word "magic" is synonymous among the general public with the name Tony Binarelli. Throughout the continent, he is respected among his peers for his creative and entertaining magic. Now, for the first time, English speaking magicians can learn what Europe has known for years: the brilliant magical thoughts and innovations of a master magician!
Written by Gary Ouellet, with hundreds of photographs, between these covers lies a world-class collection of close-up, stage and mental magic with cards, matches, whiskey bottles, movie posters, bills, novels, clothing and more, and a major section on Wallet Magic that is truly worth the price of the book!
All of this material has been tested live and on television! Included are such reputation-makers as:
RESURRECTION: A fabulously clean and easy destroyed-and-restored borrowed bill!
THE CINCINNATI KID POKER DEAL: Gary Ouellet calls it "The best poker deal ever published or sold, bar none, no exceptions!".
GHOST MATCHES: The magician, hands clearly empty, borrows a handful of matches and causes them to penetrate a table-top and fall onto a spectators?Eopen palm. This is really a fooler!
And much more! Plus the SLYDINI FALSE CUT and the SLYDINI FALSE SHUFFLE, two sleights that were an integral part of Tony窶冱 F.I.S.M. award-winning act! Hardbound, full color dustjacket, 197 pages.
"
---
Camirand Academy of Magic
"Ouellet, Garry"
---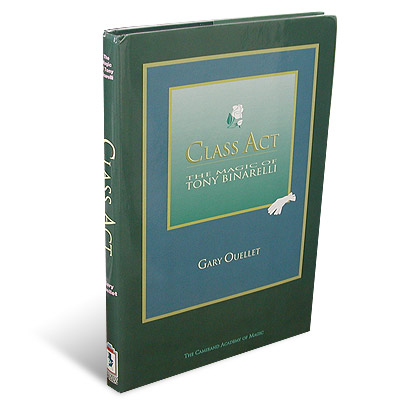 ---
---
Copyright (C) 2012 Kazu.U. All Rights Reserved.