Card Sharp by Brian Tudor - DVD
"Card Sharp
by Brian Tudor

Brian Tudor, a world renowned card mechanic known for his unparalleled speed and dexterity as well as his groundbreaking new-school style, has broken all the rules by daring to reveal the material contained herein. Make no mistake, enemies have been made by taking these techniques public, but true to his up-from-the-streets attitude the author does not care. He is more concerned with cementing his place in history as the first one to put all the pieces together and publish one single comprehensive system for cheating at poker.

Brief descriptions outlining the five principles covered in this volume are as follows (each of these principles is thoroughly broken down step-by-step and visually explained in precise detail):


Card Location (finding the hot cards)
Card Control (stacking the deck)
False Shuffles (retaining the deck in stacked order)
Countering the Cut (nullifying the cut)
Trick Deals (putting the hot cards where you want them)
Is it ethical to demonstrate actual techniques used by professional card-cheats
in an instructional format? To teach people how to cheat? It could easily be counter-argued that
by understanding all the contents of this DVD a person could actually protect themselves from being cheated!
It takes a cheat to catch a cheat. The ethics of this material is determined by the applications that the knowledge is put to. But right or wrong
it's all here and cannot be ignored!

History has been made, and the viewer is left to find their own conclusions...
WARNING!

USE AT YOUR OWN RISK...
THIS DVD IS PRODUCED FOR INFORMATIONAL PURPOSES ONLY AND NOT INTENDED TO PROMOTE POTENTIALLY DANGEROUS OR ILLEGAL ACTIVITY
Running Time: 31min 32s
Additional Image(s)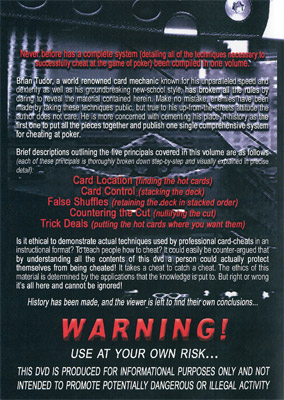 "
---
Brian Tudor
"Tudor, Brian"
---